The dangerous Dakota Access Pipeline, and the brutal repression unleashed on its behalf, is countered by a greater force.
To me, among a multitude of outstanding positive qualities I was lucky enough to observe continually while camping at Oceti Sakowin camp for one week, the most inspiring aspect of the indigenous-led Water Protectors' struggle at Standing Rock is courage.
That raises the question: why does it take so much courage to protect water, indigenous rights, and sacred sites from the Dakota Access Pipeline? Where is all the violence toward unarmed Water Protectors coming from? Who's calling the shots?  It's not just the infamous private security firm working for Dakota Access Pipeline which unleashed dogs biting protectors on September 3rd. Another private firm, TigerSwan — which has offices in Iraq and Afghanistan, has been awarded over $57 million in U.S. government contracts, and also close business ties to the oil and gas industry — is working for Dakota Access Pipeline. Here is what Medea Benjamin has to say about TigerSwan:
"It is sad, but not surprising, that this firm has ties to the US interventions in Afghanistan and Iraq," Medea Benjamin, co-founder of the women-led peace group CODEPINK and the co-founder of the human rights group Global Exchange, told DeSmog. "It is another terrifying example of how our violent interventions abroad come home to haunt us in the form of repression and violation of our civil rights."
Steve Horn quoted Benjamin in his Counterpunch investigative article, "Security Firm Running Dakota Access Pipeline Intelligence Has Ties to U.S. Military," published October 31st 2016, while I was still living at Oceti Sakowin camp.  Throughout my time at Standing Rock, I kept thinking "these guys behave more like a paramilitary force, this feels more like low-intensity warfare against a whole people," rather than mere private-property defense in the usual sense. TigerSwan is a key part of the escalated, large-scale militarized police aggression against indigenous people and their allies at Standing Rock.
Grace in the Face of Brutality
Some of us allies who arrived after police arrested 140 water protectors on Saturday, October 22nd may have had the illusion that the worst had already happened. On Wednesday night, October 26th, after my friends and I pitched our tents at dusk, we were called to the frontline camp — the northern camp known as the "1851 Treaty Camp" which Lakota leaders claimed by eminent domain. These tipis, tents and prayer circles directly blocked the route of the Dakota Access Pipeline, on land the corporation had bought but which was actually owned by the Standing Rock Lakota according to its 1851 treaty with the U.S. government — a treaty broken by the U.S. government.
I took two men to the 1851 treaty camp, all of us trying to figure out if we could be of use amidst rumors that the police assault would happen overnight.  When they decided to get some sleep, I brought them back to camp but answered the call when another request went out to bring more Water Protectors to the frontline camp. So I brought two more men to the 1851 treaty camp, and while we assessed the situation one of them, a gentle, soft-spoken Havasupai man — a firekeeper who seemed to never meet a person he did not immediately help in some way — told me his story.  He was arrested while engaging in peaceful nonviolent protest on Saturday October 22nd. Thrown to the ground, he found himself motionless on his back while a large policeman ground his knees painfully into his ribs. He heard another policeman screaming at him, "Turn over! Turn over!" which he could not possibly do as the big policeman bore down with rib-cracking force on top of him. Eventually the officer let up his knee pressure long enough to let him turn over. After that he endured two days in jail with no medical care, and here he was on the frontlines.
Later that same night, my new Havasupai friend stood with me in the cold, cracked ribs and all, while I tried to text-guide an even newer arrival to a tipi where my Lakota friends had offered sleeping space. He stayed patiently for a full hour in the cold and dark until my missing crew member finally appeared, showing above-and-beyond consideration and hospitality in keeping with the theme of the whole camp: we are all Relatives. The next day, I was glad to be of use, taking him to the Indian Health Service in Fort Yates for an X-ray to document the fractured ribs, while the next major police assault was underway.
Mainstream media failed to cover the police and National Guard aggression against the 1851 Treaty Camp Thursday, October 27th, during which police used batons, mace, rubber bullets, sound cannon, tasers, and physical force against people plus taser and rubber bullets (some said live ammunition) against a horse, who later died. Militarized police also rammed a horse with an ATV. Myron Dewey, Indigenous Environmental Network, and other indigenous leaders did an incredible job documenting the assault on Facebook. One non-Facebook site documenting much of what happened that day is Unicorn Riot, with dozens of photographs and video despite Unicorn Riot journalists themselves being assaulted, they reported at about 4:45 pm.
A post from Uncensored News, "Morton County Sheriff and Violent Gang of Police Targeted And Arrested Medics While They Were Treating Patients," documents the targeting of medics including the moment when a woman medic wearing a red cross, driving a car clearly marked with a red cross, was ripped out from behind the wheel of the car she was driving, thrown down and roughly arrested while the car was still moving, putting many people at risk.
I've seen that arrest on video and spoken with eyewitnesses. One of the most disturbing things about it is that a masked man, his face covered with a black mask and goggles so that no skin anywhere on him is visible and his eyes are invisible too, walking in fatigues with the militarized police, shouts "she needs to be arrested." The officer immediately in front of the masked man obeys the order, abusing the medic and disregarding the safety of everyone in front of the car while he pulls the medic out of the car she is driving. Who is that masked man? Why did police obey him, endangering everyone in the path of the car?
All in all, police from multiple states arrested 141 water protectors on October 27th. Over 400 water protectors had been arrested cumulatively by November 1st. Bail was set at 1,500 per person. On Thursday October 27th everyone, including elders praying inside a sweat lodge and a grandma sitting on the ground in a prayer circle — was charged with a felony, igniting an incendiary device, because someone set fire to a DAPL worker's truck after the DAPL worker, a hired mercenary, attempted to bring 3 guns into the main Oceti Sakowin camp. The BIA (Bureau of Indian Affairs) police arrested the DAPL mercenary without injury after protectors challenged him near the camp. Mother Jones reports the incident in detail: "I watched an armed Dakota Access Pipeline Employee Get Arrested After Entering Protesters' Camp."
In total, for Thursday 10/27 alone, the Standing Rock Sioux Tribal Council paid $173,000 for bail and another $80,000 to get back the 100 cars impounded by police near the 1851 Treaty Camp.
The repression didn't end there. On Wednesday, Nov. 2nd, riot police injured 100 people. Police shot a 16 year old boy with rubber bullets at point-blank range, causing him to cough up blood, Dr. Jesse Lopez confirmed. Lopez examined him on-site. One woman said, "I told the police, 'I love you,' and then they maced me in the face for 6-7 seconds."
On the Sunday before Thanksgiving, police assaults escalated even further. Not only did Morton County Sheriff's Department and militarized police spray protectors with water cannon in sub-freezing weather, but medics reported that they sprayed mace in such high concentrations in such a short period of time that people lost bowel function, vomited, and one person had a seizure. One elder went into cardiac arrest and had to be revived with CPR. The Water Protectors were nonviolently dismantling the burned trucks sitting on the bridge not far from the main Oceti Sakowin camp, in order to increase the access to the camp for emergency and safety vehicles and in order to stop the police barricade which was inconveniencing local ranchers and area resident when the Sunday night police assault occurred.
Degradation follows Desecration
While all the nonviolent actions have at their heart water protection, on November 2nd, the activists were trying to protect both the Cannonball and Missouri Rivers and the burial grounds on November 2nd. "Riot Police Injure Over 100 People Defending Standing Rock Burial Grounds" quotes LaDonna Bravebull Allard:
They parked their armored cars on the graves of Matilda Gaplin, Eagle that Looks at Woman, and with her are her daughters Louisa DeGrey Van Solen and Alma Parkins who once owned the Cannon Ball Ranch. Next to her is her husband Charles Parker, and 11 babies. These are famous people for us here in Indian Country. Matilda was the only woman to sign the Fort Laramie Treaty of 1868. Louisa was the first school teacher on Standing Rock. I am deeply hurt to see the desecration of their graves.
In "Dakota Access: Women on the Front Lines tell of Violent Arrests and Police Abuse–video" the Guardian reports,
The Native American women leading the Standing Rock protests against the Dakota Access oil pipeline say they have faced police abuse and mistreatment in jail. North Dakota's militarized law enforcement has left many of them traumatized. 'They came with their guns, their weapons and violence and put it on a peaceful people,' says Lauren Howland, a member of the San Carlos and Jicarilla Apache tribes and Navajo Nation.
Strip searches are being used routinely. One 18 year old indigenous woman said, with gracious understatement, "It made me uncomfortable. It hurt my dignity." As a white woman arrested for nonviolent protests in Florida (opposing the launch of the Trident II D-5 nuclear weapon); Washington D.C. (for sitting down in front of Citibank during anti-apartheid protests and years later for a large gay rights civil disobedience action at the Supreme Court) and Philadelphia (for urging Army Recruiting stations to stay out of Iraq) I have never been strip-searched. Never. Ever. Nor was anyone I was arrested with. Why is North Dakota in general, and Morton County in particular, going out of their way to use humiliation as a tool of repression?
Courage
To be honest, I can't say that I personally was all that courageous during my week at camp. I helped people. I chopped potatoes. I helped elders get needed rest and showers. I listened a lot. I gave all the gifts — insulated winter boots, pre-paid VISA cards, cash, sub-zero winter sleeping bag, coffee, sugar, good winter coats and other winter gear — with which people in the Hudson Valley of New York, especially folks fighting the proposed Pilgrim Pipelines, showered me before I left — focusing on support for long-term campers, not weekend visitors. I gave rides. I helped a few people figure out where the medic tent was and how to get the help they needed. I helped Helmina Makes Him First buy supplies for fry bread and soup she brought to Winona's Soup Kitchen, a traditional Lakota kitchen which feeds 350 people a day. I went to the front lines a bunch of times but was never there when the rubber bullets were flying. No wounds, not even a little mace, and no strip-searching for me. Just a lot of smoke — sage and firewood — in my eyes.
But courage was all around me, all the time.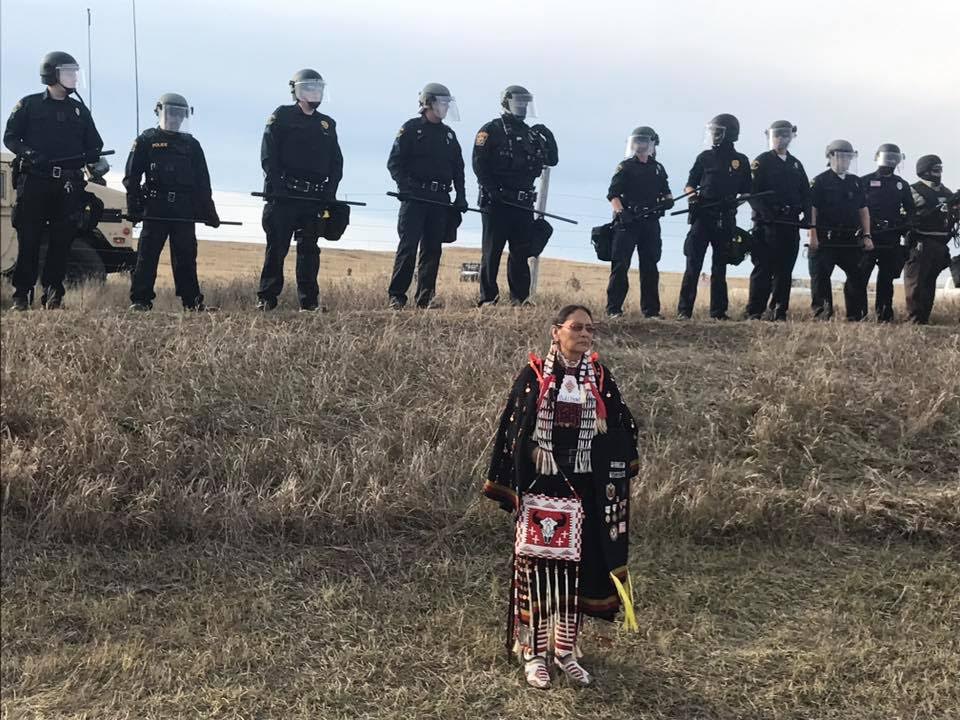 Courage filled the feet of Abe, a Lakota man of the Cheyenne River band, so elderly that his grown daughter, Winona, tried to make him agree to stay away from the front lines. But Abe was always at the frontlines, no matter that walking was difficult for him.
Courage filled the voices of all those who defused the dangerous situation where a DAPL security worker who brought three weapons and tried to enter the main camp; Ryan Redhawk narrates that conflict in full here.
Courage filled the hearts of all the water protectors who attempted to protect the Standing Rock burial sites and sacred sites from DAPL bulldozers on September 3rd, enduring mace and terrifying biting dogs, but who pushed back with nothing but their bodies and their shouts.
Courage filled the life of Caro Gonzales, member of the Chemehuevi Tribe, who in spite of the advancing lines of police, told the police "those are grandmothers' bones you are digging up," praying and attempting to offer tobacco, as a prayerful offer to the Creator. Police stomped her arm "trying to get the tobacco out of my hand," Caro said.
Courage filled the mind of Lauren Howland, Indigenous Youth Council leader, who speaks directly about racism towards indigenous spiritual practices: "If I was white, if I was a white priest, I would not have been arrested… Are they going to come beat me again?"
"Two women told me to take my clothes off… I asked them to look away, they said we're going to stand here and watch you… I said I'm sorry but I'm not going to do that for you. They dragged me into another cell with male officers, where they ripped my clothes off of me…. Now I don't remember everything, from then I was traumatized, I have flashes remembering…." Listen to the courage in the voices of the women.
Eviction Notice: Forced Removal Threatened
Yesterday, Friday November 25th 2016, the day after Thanksgiving, the Army Corps of Engineers gave an eviction notice for the whole main Oceti Sakowin (Seven Council Fires / Great Sioux Nation) camp.  Both Dave Archambault of the Standing Rock Sioux Tribe and the Cheyenne River Chairman Frazier wrote eloquent letters calling for the Army Corps to protect the water and human rights by rescinding permits already given to DAPL and by refusing to give the final easement DAPL needs to bore under the Missouri River, rather than by enacting yet another forced removal of indigenous peoples from their own lands, promised to them by treaties never honored.
But the day before the eviction notice would take effect, hundreds of veterans who have served in the U.S. armed forces will arrive at Oceti Sakowin camp. And the camp has already grown to about 3,000 participants following the brutal crackdown with mace, rubber bullets, water cannon and concussion grenades on Sunday night November 20th. The courage, compassion, spirit, creativity, resilience and persistence of the people, indigenous-led and ally-rich, continues to grow.
I literally can't stop talking about the struggle at Standing Rock, as everyone who knows me knows. I felt there was no way to begin this post without looking at centuries of racism and genocide as context for the struggle; and no way to end it without honoring the veterans who will soon be arriving at Oceti Sakowin camp.  For the Lakota and 300 other indigenous nations at Standing Rock; for the veterans about to arrive to join them, this is the time to stand for cultural survival, water, honoring the treaties, human rights, justice and morality:
A Facebook page for the event, Veterans Stand for Standing Rock, has more than 600 confirmed reservations with more than 4,500 other people expressing interest.

High-profile veterans including U.S. Rep. Tulsi Gabbard of Hawaii and retired Baltimore police officer/whistleblower Michael A. Wood, Jr. plan to attend.

"This country is repressing our people," Wood Jr. told Task & Purpose. "If we're going to be heroes, if we're really going to be those veterans that this country praises, well, then we need to do the things that we actually said we're going to do when we took the oath to defend the Constitution from enemies foreign and domestic."

The "operations order" states:

"In response to the assertion of treaty rights, citizen rights, tribal rights and protection of the most valuable of resources, water, the Sioux tribes and allied comrades, are under sustained assault by agents of and working for private interests under the color of law. First Americans have served in the United States Military, defending the soil of our homelands, at a greater percentage than any other group of Americans. There is no other people more deserving of veteran support and this situation encapsulates whether we are called heroes for violence and cashing paychecks or for justice and morality."
From Hundreds of Veterans to Join Water Protectors at Standing Rock to Protest Dakota Access Pipeline (EcoWatch).
http://www.ecowatch.com/veterans-standing-rock-dakota-access-pipeline-2106672407.html